Riding in the Mountains
We provide year round ridding . All horses are easy to ride and laid back. You do not need to be the world's greatest rider to come on this holiday and even if you are, you will still find it a great way to get to see the breath taking views of Alentejo.
The stables are set only 10 km from the wild sandy beaches of the Atlantic Ocean. The ride will take you into the hills that give you panoramic views over the country side and coast line. You will have full contact with the forest of the Serra de Grândola where the famous cork trees have grown for centuries in one on the untouched environments of Portugal.
During our rides in the woods we can see a huge variety of mushrooms that sprout after the first rain in October and exist until Spring.
In order to identify them we can provide you with a illustrated brochure with the different species.
Horse Riding 1h45 - 55€ (1/10 to 30/06) and 65€ (1/07 to 30/09)
Horse Riding + Wine Tasting - 70€ (1/10 to 30/06) and 80€ (1/07 to 30/09)
VAT included.
Riding on the Beach
Riding in an open space releases the stress and provides a strong sensation of welfare. It's the contact with wild nature the pure air the immense sky, the ocean, the woods of Grândola and the wild life and nature of its surroundings.
If we choose to ride in the dunes of the coast of Melides especially in Vigia, we should do it slowly in order to enjoy the beautiful botanic species that grow in the sand. We will provide you pictures so that you can identify them.
We hope you have a good ride!!!
Horse Riding 1h45 - 55€ (1/10 to 30/06) and 65€ (1/07 to 30/09)
Horse Riding + Wine Tasting - 70€ (1/10 to 30/06) and 80€ (1/07 to 30/09)
VAT included.
Riding Classes
Learn the basic principles of horse behaviour, understand and learn how to deal with them. Study his habits and potentialities and after learn how to ride.
With us you can have riding lessons of one hour and step by step learn the equestrian art, in the natural environment of our stud.
Riding Lesson - 30€ / h
VAT included.
Wine Tasting & Picnic / Private Chef Lunch
The Almargem Group also promotes Wine tasting sessions that can be aggregated with the horse riding sessions or enjoyed or separately. In these sessions you can taste and buy if you like, three different types of wine produced in the region.
You can rent us bikes for you and the whole family in order to enjoy nature with all the freedom while you exercise pedaling with nature.
Aquaponics is a food production system that combines conventional aquaculture with hydroponics in a symbiotic environment.
Wine Tasting - 20€ ; Picnic - 35€ & Private Chef Lunch - 35 a 50€/person
Extras Activities
Private walks on the beach and in the mountains;
Picnic tours;
Requests for marriage;
Photographic sessions;
Randonne of 1 day with lunch in Melides.
For more information contact the Melides Horse Riding.
About Us
The Quinta do Almargem belongs to the family for centuries and the stud was founded in 1990 by one of its members, architect Luis Ressano Garcia Lamas to raise sport horses, especially for endurance riding.
Quinta do Almargem has participated in many international endurance competitions and sponsored some.
In parallel to our successful sport horses breading and competitions, in 2010 we initiated another prestigious activity, that as an increasing acceptance both national and international, consisting in horseback riding out in the untouched country side of Serra de Grândola.
To perform the horseback riding you don't need to have any equestrian experience, as the horses are extremely calm and meek.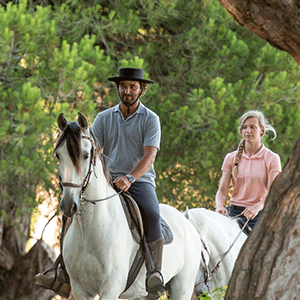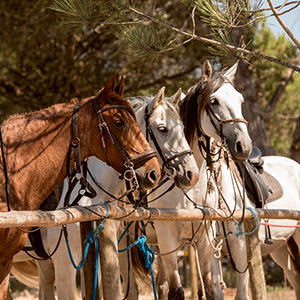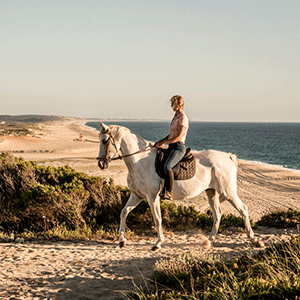 Contacts


Location of the Beach Walk: Praia da Vigia, Estrada da Praia da Vigia, Melides GPS Beach 38.139211"N, -8.780192"W;
Location of the Tour in the Hills: Monte da Marra, Estrada da Boavista 7570 - 635, Melides; GPS Hills 38.128580"N, -8.673275"W.
Location
Other Services
One day of Horse Riding: 150€
Rent a box: 300-325 € / Month or 15€ / day
Weeks on horseback - Visit www.portugalhorseadventure.com
Wines
We can taste distinct and elegant wines produced in Herdade do Cebolal, which stay in the Alentejo coast about 10 KM from the Atlantic Ocean.
Vale das Éguas White is a consensual wine made with Portuguese varieties Arinto, Antão Vaz, Fernão Pires and Manteudo grapes from a vineyards with 30 years old. This white wine has a very interesting aroma of tropical fruits (passion fruit, pineapple), citrus and a touch a slight minerality. In the mouth it is a wine with character, freshness and balanced acidity.
Vale das Éguas Red is a gastronomic wine made white fhe varieties Aragonês, Touriga Nacional and Syrah. This red wine has an aromas of red fruit whith balanced and elegant tannins and an acidity and freshness due to the proximity of the sea. It was thought to be accessible to a broad spectral consumer.
Herdade do Cebolal White is made whith Fernão Pires, Arinto, Roupeiro grapes from vines with more than 25 years old. The wine presents a bouquet reminiscent of tropical fruit and is fresh in the palate with hints of minerals and a crisp acidity.
Herdade do Cebolal Rosé is made with Aragonês.It´s a mineral rosé whith an aroma of red fruits reminding strawberry. It has a delicate style with a textured mouth with nice long presence. A wine with tannins and elegant acidity.
Herdade do Cebolal Red is made with Castelão, Aragonês and Alicante Bouchet varieties. This wine aged 6 months in French oak barrels and 2 years in the bottle. The wine presents a deep ruby colour and an aroma and flavor redolent of very ripe red berries balanced by firm tannins, rendering a long finish. A well structured wine with good potential for developing in the bottle.